Happy (belated) Birthday Maximum RocknRoll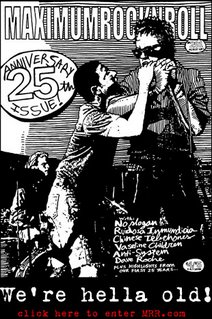 Wow,
25 years
. That's nuts. We're all getting older every day, but it's things like that which really push me over the edge. Had the same weird nostalgic "holy shit" feeling a couple of years ago when I realized that I'd seen Black Flag 20 (!!) years
previous
in Syracuse NY.
Good stuff either way... lots has passed, there's been some good times, and I can't complain.
Footnote : As my friend
Tom
recently commented, my taste in
music
hasn't changed
much
in 20 years. Not sure if that's good or not, but quite true....