AppleTV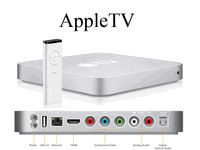 Managed to win (!!) a 160GB
appleTV
recently. Was a give-away for people who registered and downloaded white papers, so was a complete surprise.
It's the ideal type of thing to be given, since it's not something I'd pay full retail for, but I'm interested in it. Having had it set up for a couple of weeks now, think I could see myself becoming attached to it over time. Maybe Apple should offer a "rent-to-own" option for these, since they haven't
captured
the general publics attention.
Here's what I think it does well :
Pictures :
It's easy to set up a folder to sync to the appleTV which is convenient. I have it configured to sync a single folder, and planned on dropping content specific to TV viewing in that. (Have too much to have it sync everything).
The picture quality is great (connected to HDTV via HDMI) and the slide show is functional. There's no "edit" capability (even delete) which would be nice to have it as an editing method, but we were able to look through vacation pictures without huddling around a laptop.
Music :
Much like the Pictures sync, it's easy to set up sync'ing from iTunes to the appleTV. This would include podcasts and smart playlists. I've set it up to sync everything I've added in the last month (again, too much to do everything) and several playlists which we'd use in the living room. I like that shuffle is the first option for playlist playback (since I prefer it for most albums), and the album artwork is large, clear and looks great.
I've not played with Video yet. I'm not someone who'd purchase video content from Apple, but plan to explore the YouTube linkages a bit.
All in all, it's a lot like how I feel about the
Chumby
. It's interesting, and I could easily see it becoming something that I'd find value in. Unfortunately, the price point is still high enough I'd struggle to measure the ROI on both favorably.
Update : 02/23/08
A week later, and I'm really beginning to like the appleTV. It's great to have access to my mp3 catalog in the family room, something which wasn't possible with iPod docks etc (too small). The YouTube integration works (search-able, can sign in etc), but it's the same crap YouTube quality as the web, so it's really obnoxious on a TV. The pictures sync works as expected, and it's great to be able to view photos on the larger screen.
Still unconvinced I'd pay for it, but think there's probably a market for this, if only it was possible to demonstrate the value effectively.